Welcome to Inner Light Mandalas!
Welcome to our new Inner Light Mandalas site! We are happy to have a home on the internet, and glad you came by!
Drawing these mandalas came out of a love for geometry and color, and a growing fascination for the relationships described in sacred geometry.
Knowing that the three-dimensional reality of our physical world is not the limit of existence, I use geometry to address connections between life in our "daily world" and the complex dimensions we inhabit but don't usually address in the busy flow of our lives.
These mandalas are windows and portals into these complex dimensions. They visually and energetically bridge our physical reality to other dimensional realities. Addressed by spiritual practices, and the topic of current physics, these realities are in our consciousness but are not always readily accessible. The mandalas provide a beautiful connection to our expanded reality. I am happy to share them with you.
For those of you familiar with our products before our time on the web, our newest addition is 5″ square greeting cards, the Water Elemental design is pictured below: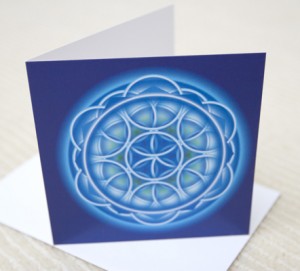 Please drop us a line about the site, the mandalas, or your thoughts on our multidimensional existence. Cheers!
Posted
by
One Response